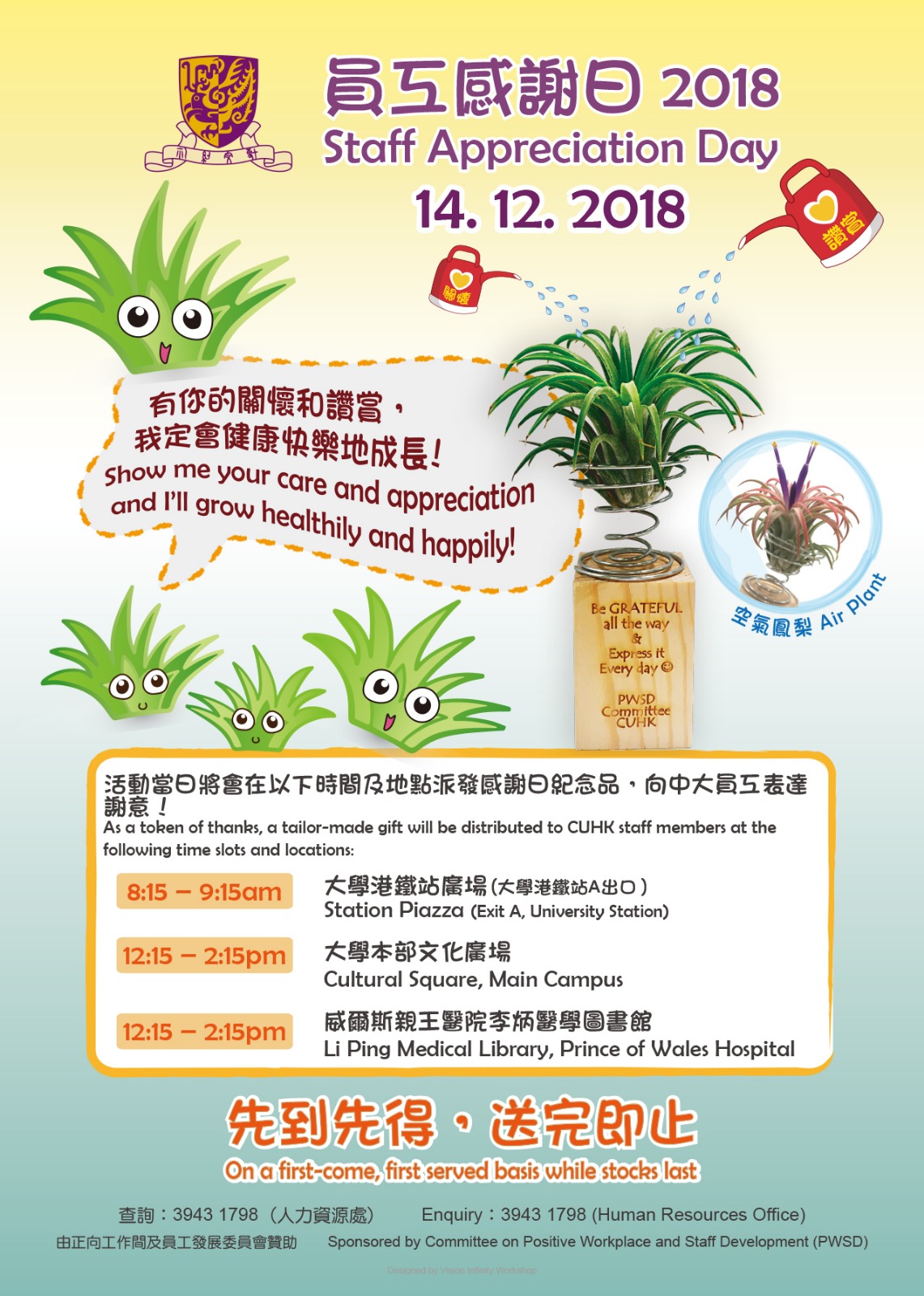 2018 員工感謝日 - 種植錦囊
為推動工作間相互欣賞和感謝的氣氛,正向工作間及員工發展委員會(PWSD 委員會)擬訂於2018年12月14日(星期五)為大學本年度的員工感謝日。
當日下午4時30分將會在善衡書院何善衡館舉辦「員工感謝日派對」,段崇智校長屆時會親臨向同事致謝。歡迎同事出席派對,一起欣賞表演、參與抽獎和享用小食,並藉此難得的機會聚首一堂,互相表達謝意!(已報名的同事屆時請準時出席。)
一如以往,PWSD委員會將贊助小禮物贈予中大員工以表達謝意。今年的小禮物是「空氣鳳梨」,同事可於當日早上及午飯時段在校園指定的地點領取,詳情請參閱海報。
空氣鳳梨易於種植,配合大家的關懷和欣賞,它甚至會開花呢!同樣的道理亦可應用於工作間。一個表達欣賞的簡單動作和一聲「加油」或「謝謝」,皆可鼓勵同事之間的正向行為和表現。讓我們攜手共建一個感謝滿載的正向工作間!
2018 Staff Appreciation Day - Care Tips
To promote an atmosphere of appreciation and gratitude at the workplace, the Committee on Positive Workplace and Staff Development (the PWSD Committee) is pleased to announce that December 14, 2018 (Friday) will be designated as the annual 'Staff Appreciation Day' (renamed from 'Staff Thankful Day') of the University.
A Staff Appreciation Party will be hosted by the Vice-Chancellor, Prof. Rocky Tuan, at 4:30p.m. on the same day, at the Ho Sin Hang Hall, S. H. Ho College. Colleagues are welcomed to join the party to enjoy the performances, lucky draw and refreshments. It will be a good opportunity for us to get together and say thanks to each other! (For those who have registered for the party, please arrive at the venue on time.)
As in previous years, the PWSD Committee will sponsor small gifts, the 'air plants', for distribution to colleagues as a token of appreciation. This year, 'air plants' will be distributed to CUHK staff at designated locations in the morning and during lunchtime on the day. Details on the distribution arrangement are set out in the poster below.
Air plants grow easily. With care and appreciation, flowers will bloom. The same applies to the workplace too. A simple gesture to express appreciation and show gratitude will promote positive behaviours and performance. Let us work together to cultivate a culture of thankfulness and appreciation at the workplace!
空氣鳳梨種植方法:
澆水:乾燥季節每天噴水1次,潮濕季節則每週2至3次(或根據具體濕度及溫度調整噴水次數)。噴水後保持空氣流通。
光照:對光線要求不高,散光或燈光均可,唯不能暴曬。
注意事項:
1.噴水後應避免積水。
2.植物依靠葉片上的小鱗片吸收水份和營養,若移植至泥土或水裡反而無法存活。
除了給予適當水份和光線,同事謹記要多讚賞空氣鳳梨,也可同時藉此練習保持正面的心情:「有你的關懷和讚賞,我定會健康快樂地成長! 」
由「正向工作間及員工發展委員會」贊助
Planting tips for Air Plant:
A rule of thumb: Water a tillandsia (空氣鳳梨) once a day during dry seasons and 2-3 times a week during humid seasons. Set it out to dry in an area with good air circulation after watering.
Lighting: Grow it indoors in bright, filtered light or outdoors in partial or dappled shade.
Reminder:
1.Make sure you keep it dry after watering as it will rot if it is waterlogged.
2.The plant has tiny vessels in their leaves known as trichomes, which capture moisture and nutrients in the air. Don't transplant it into soil and water.
Apart from keeping adequate lighting and watering, you say some encouraging and positive words to the air plant every day. It would keep you stay positive! Remember: Show me your Care and Appreciation and I'll grow healthily and happily!
Sponsored by Committee on Positive Workplace and Staff Development (PWSD)